In the lead up to the midterms, social media giants like Google, Twitter, and Facebook have rolled out waves of censorship designed to minimize the influence of conservative activists online. Despite the consistent suspension of conservative and right-wing accounts, Twitter has taken no action against hundreds of violent far-left accounts that use the platform to recruit new members and organize the criminal activity.
One of the best examples of this double standard is Twitter's inaction regarding the violent Seattle Antifa cell, Greater Seattle GDC. On June 21st of this year, this Antifa cell used their Twitter account to distribute a blog post from the Puget Sound Anarchists that included the names and home addresses of 37 Immigration and Customs Enforcement (ICE) agents and even included the personal contact information for their spouses. This violates multiple Twitter Terms of Service and this has been brought to Twitter's attention on numerous occasions throughout the last two months. Despite being reported multiple times, the account is still active and the tweet that targets and endangers ICE agents and their families is still live.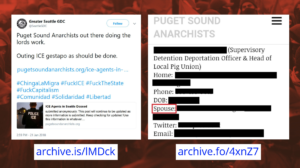 After reporting both of the tweets in the screenshots below, they failed to take any action exposing the selective enforcement of Twitter's TOS
Throughout the last two months, we personally reported this tweet and the account multiple times. We also received numerous screenshots from other Twitter users who also reported this account. Despite the clear violation of Twitter TOS and being reported numerous times, why has Twitter decided to take no action against this account? I think it has been made abundantly clear that Twitter selectively enforces their Terms of Service in order to advance a left-wing ideology.
Antifa
Dox
Far Left
ICE
Violence
General